In preparation for your adventure, below are a few things you'll want to bring along:


1. Lunch and some snacks (depends on trip time and duration)
2. Water, or your beverage of choice (non-alcoholic)
3. Sunscreen
4. Sunglasses (with a strap if possible)
5. Water shoes or old sneakers
6. Wide-brim hat
7. Proper water attire – weather appropriate (an extra change of clothes is also a good idea)


Your guide will provide:

1. A cooler with ice packs to store your lunch and beverages
2. A first aid kit
3. Drinking water
4. Clean kayaks, paddles and PFDs (life jackets)


Restrictions:
There are no alcoholic beverages allowed on our tours, there is plenty of time for that afterwards.


When dressing for kayaking, it is best to dress in layers. This gives you more options for remaining comfortable during changing weather conditions.


Fall, Winter, and Spring:
The weather in North Florida can swing from very cold (mid 30s) to quite warm (upper 80s) from fall to spring. A rain jacket will keep that cold wind out, and a pair of rain pants will keep the cold water that drips from your paddle off of your clothes. Wear short and long-sleeve synthetic sun shirts under your rain jacket. As the temperatures warm up in the middle of the day, you can peel off the rain jacket and long-sleeve shirt.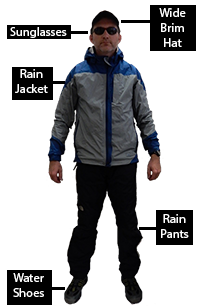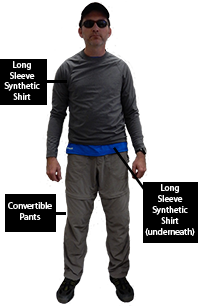 Summer:
North Florida can be very hot and humid during the summer months (85-100+ degrees F). It is important to dress appropriately to avoid heat exhaustion and sunburn. A long or short-sleeve sun shirt and sunscreen provide protection from the sun. A pair of convertible pants helps keep the sun off of your legs, and can easily be turned into shorts by unzipping the pants legs.

Water shoes keep the feet warm and protect you from sharp or abrasive objects around the launch site and underwater. Some of our tours are conducted in the intracoastal marsh. In the unlikely event of a capsize, your water shoes (or old pair of sneakers) will protect your feet from sharp oyster beds that may lie beneath.
In the morning, the sun tends to reflect off of the water making very difficult to see. A good pair of sunglasses and a wide brim hat will help you see, and keep you from squinting your eyes all morning.